Milan is a vibrant city located in the northern part of Italy and is the capital of the Lombardy region. With relatively inexpensive and direct flights readily available from the UK through multiple airlines, Milan's easy-to-reach location is one of the many features of this city that appeals to international teachers. 
Milan is a major economic hub and a centre for industries such as fashion, design, finance, technology, and media. The city provides a wealth of job opportunities, particularly for those in creative fields, making it an appealing destination for expatriates. As a result, there are a number of international schools catering to the educational needs of expatriate families.
Teaching abroad in Milan can be a rewarding and enriching experience provided you find a school that is right for you. International schools in Milan cater to a diverse community of expatriates, offering a variety of curricula such as British, American, and International Baccalaureate (IB). Remember, each international school is unique, so it's important to thoroughly research and connect with the specific school you are considering to gain insights from current or former teachers.
International schools in Milan typically offer a range of benefits and support to their teachers. While the specific offerings can vary between schools, competitive salaries that are commensurate with the teacher's qualifications and experience should be expected. Occasionally, the salary packages may also include additional benefits such as transportation allowance, and health insurance.
As an international teacher, it is also fair to expect support in settling into your new environment. That may be through a cultural integration programme, mentorship or buddy programme, and/or a well-integrated school community. If this is your first international teaching post, it should be reassuring to learn that a good international school understand the challenges that teachers may face when adjusting to a new cultural environment, and make every effort to welcome you appropriately.
Through a professional lens, the international schools that we work with, provide teachers with access to well-equipped classrooms, teaching resources, and professional development opportunities. All with the central ambition of delivering high-quality instruction and engaging students effectively. 
In fact, Milan is a hub for many educational conferences, workshops, and professional development opportunities. As a teacher, you may have access to these events to further enhance your teaching skills and stay up to date with educational trends.
Outside of school
Expats can take advantage of the city's excellent transportation links to explore neighbouring countries, visit surrounding beauty spots, or take short trips to popular cities like Venice, Florence, and the Swiss Alps. Milan's central location in northern Italy allows for easy access to other European destinations. 
But there is plenty to see and do around the city too. Milan is in close proximity to several beautiful lakes, such as Lake Como, Lake Maggiore, and Lake Garda. These lakes offer stunning natural scenery, water sports, and leisure activities. They are popular destinations for locals, expats, and tourists. To the north of Milan, the landscape transitions into the Italian Alps. While not directly part of the city's geography, the proximity of the Alps provides easy access to breathtaking mountain scenery, hiking, skiing, and other outdoor pursuits. If you like open green spaces but don't want to travel too far, the city itself has plenty of parks providing residents with recreational spaces and opportunities for relaxation amidst the urban environment.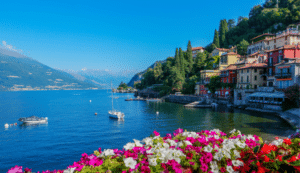 The city is also home to iconic landmarks such as the magnificent Duomo di Milano, La Scala Opera House, and numerous museums and art galleries. It offers a lively cultural scene with fashion events, design exhibitions, and artistic festivals, attracting those with an appreciation for art and culture. Expats with an interest in fashion and luxury find the city particularly appealing, with a plethora of high-end boutiques, designer stores, and fashion districts to explore.
Italy is, of course, famous for its cuisine, and Milan is no exception. The city offers a wide array of culinary delights, from traditional Italian trattorias to Michelin-starred restaurants. Expats are spoiled for choice when it comes to authentic Italian flavours.
Challenges
While living and teaching in Milan as an expatriate can be exciting and rewarding, there are some challenges that you may encounter. It's important to be aware of these and prepare for them:
Language barrier
Italian is the primary language spoken in Milan, and while many people, especially in international schools, speak English, there may still be instances where language barriers arise in day-to-day interactions. Learning some Italian can help you navigate daily life and communicate with locals.
Housing and cost of living
Milan is known for its higher cost of living compared to other Italian cities. Finding suitable accommodation within your budget can be a challenge, particularly in desirable neighbourhoods. It's important to research housing options in advance and budget accordingly.
Bureaucratic processes
Navigating administrative processes, such as obtaining work permits, visas, and dealing with local authorities, can sometimes be complex and time-consuming. It's essential to familiarise yourself with the necessary paperwork and seek guidance from your agency, school or employer to ensure a smooth transition.
Final thoughts
Milan offers a high standard of living with a well-developed infrastructure, efficient public transportation, quality healthcare, and a range of amenities and services. The city's parks, recreational facilities, and diverse entertainment options provide a well-rounded lifestyle for residents.
It's important to note that the cost of living in Milan can be relatively high compared to other Italian cities, particularly in terms of housing and dining out. However, for many international teachers, the advantages and opportunities the city offers outweigh the associated expenses.
Ultimately, the appeal of Milan as a destination for teaching abroad lies in its cultural richness, lifestyle amenities, and the opportunity to immerse oneself in the vibrant Italian way of life.
It's important to research and consider the specific international school in Milan you are interested in, as each school may have its own unique environment, curriculum, and community. As always, we are here to help, so please do not hesitate to get in touch if you would like to know more about opportunities to live and teach in Milan.
Our current vacancies:
St. Louis School – MYP Teacher
St. Louis School – Early Years Teacher